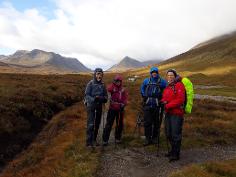 Welcome to friendly Aberdeen and Shire Hillwalking Club Est 1988
Our club originated from the merger of the hillwalking sections of two Aberdeen oil companies' sports and social clubs, BP and Britoil. A first joint club weekend took place in late 1988 at the Red Squirrel bunkhouse. A varied programme of modestly priced weekend meets in hilly locations were arranged for the months from March through October, expanding over time to January through October, as well as a day walk each month. The first annual dinner in Braemar took place in November 1991. The club also introduced an annual journal containing members' accounts of various walks.
Over time the club's name has undergone several changes. With BP's fondness for tlas (three letter abbreviations) BP in Aberdeen became part of BP EXE (Exploration Europe), and the Leisure Club became the EXEL Club (EXE Leisure Club), the Hillwalking Club therefore became the EXEL Hillwalking Club. When BP stopped supporting the Leisure Club financially the Hillwalking Club became a separate entity and took the name XXL Club to reflect that it used to be part of the EXEL Club. In February 2020 the club was renamed the Aberdeen and Shire Hillwalking Club.
Over the last 25 years we have visited some 75 huts in Scotland, North Wales, Ireland and England's Lakes and Dales in over 200 weekend meetings. The club's programme has helped nearly 30 walkers to achieve Munro compleation. We also have a number of Corbetteers, Grahamists, and Marilyn Hall of Fame members.
The club also arranges annual trips to overseas destinations including Spain, Crete, Slovakia, Slovenia and Corsica. A club BBQ is held in the summer and the annual dinner/dance continues to be held in November in Ballater. The club journal has largely been superseded by the website. Membership continues at approximately 65 members and the committee meets every second month to oversee club administration.
Throughout its history the club has been very sociable; a number of marriages have taken place between members who have met through the club. Most months there is a Last Thursday of the Month meet in an Aberdeen pub to chat about past and future hill trips.
Membership is open to everyone with a love of the outdoors, regardless of age, hill experience, or occupation.